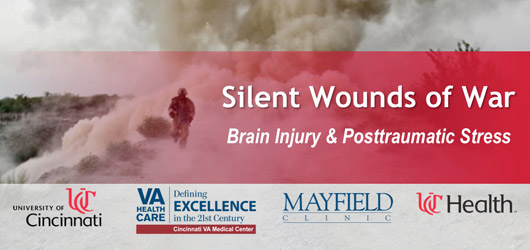 Videos of presentations given at the Silent Wounds of War are now available for viewing on the Mayfield Clinic's Web site >>
General Peter Chiarelli (retired), former Vice Chief of Staff for the U.S. Army and now CEO of One Mind for Research, spoke about his vision for the 1-year-old organization August 30 before a crowd of more than 200 at the National Underground Railroad Freedom Center. He was joined by medical researchers, including Mayfield neurosurgeons Mario Zuccarello, MD, and Norberto Andaluz, MD.
General Chiarelli has entered the field of neuroscience with thinking that is big and fast and new. He's looking for a surge, not on the battlefield, but in the research arena. He wants new creative processes, new solutions and ultimately cures for traumatic brain injury (TBI) and posttraumatic stress — invisible conditions that have ravaged the lives of U.S. soldiers and their families. And he wants premier academic institutions like the Mayfield Clinic and UC to play a part.