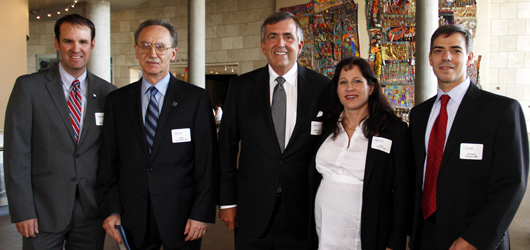 General Peter Chiarelli (retired), former Vice Chief of Staff for the U.S. Army and now CEO of One Mind for Research, has entered the field of neuroscience with thinking that is big and fast and new. He's looking for a surge, not on the battlefield, but in the research arena. He wants new creative processes, new solutions and ultimately cures for traumatic brain injury (TBI) and post-traumatic stress (PTS) — invisible conditions that have ravaged the lives of U.S. soldiers and their families. And he wants premier academic institutions like the Mayfield Clinic to play a part.

General Chiarelli spoke about his vision for the 1-year-old One Mind for Research Thursday evening before a crowd of more than 200 at the National Underground Railroad Freedom Center. The event was co-hosted by the University of Cincinnati College of Medicine, UC Health, Mayfield, the Cincinnati Veterans Affairs Medical Center, the Lindner Center of HOPE, the United States Army Grassroots Community Advisory Board, the Military Officers Association of America, the Association of the U.S. Army, and Kenwood Wealth Management of UBS Financial Services Inc.
The vision of One Mind is for all mankind to experience a lifetime free of brain disease. General Chiarelli acknowledged it's a stretch goal. "In the military we like stretch goals," he said.
He compared curing the constellation of brain diseases that include TBI and post-traumatic stress disorder, as well as memory, movement and functional disorders, to putting a man on the moon and the battle against AIDS. "We need to attack these diseases the way we attack AIDS," he said. "Twenty-five years ago we were all going to die of AIDS."
General Chiarelli has invited Cincinnati neuroscience researchers to become one of eight academic research partners in the United States. He also seeks to shake things up. He wants researchers to share data, he wants to streamline processes for faster results, and he wants to flood laboratories with millions of new research dollars. "We want to break down the old way of doing medical research and start to share data," he said. "We no longer want data belonging only to the researcher."
He bemoaned the fact that when researchers or companies do not share data, they enable competitors to waste time and money going down the same "rat hole."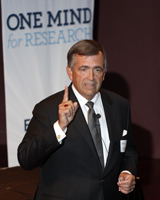 Rather than seeing research dollars dribbled out in small packets to individual universities for small-scale studies, General Chiarelli wants to fund much larger, national, longitudinal studies that do not have time limits imposed. "We want to find good research and we want to blow that wide open," he said. "We want to enroll 3,000 to 5,000 folks in a traumatic brain injury study. And one of our places is Cincinnati."
General Chiarelli pointed to the study of progesterone for the treatment of traumatic brain injury as an example of promising research that, in his view, is progressing too slowly. Years ago researchers at Emory University first noticed that lactating mice did better following a traumatic brain injury than those that were not lactating. That observation led to a pilot study and then ProTECT, a clinical trial underway in Cincinnati and several other sites, in which both men and women are given progesterone following a traumatic brain injury. Progesterone is a naturally occurring hormone in both sexes.
Three years later, as the research continues, no pharmaceutical companies are coming forward to market the drug in this treatment form because progesterone is already on the market, General Chiarelli said. "I want to cut bureaucracy that dis-incentivizes rapid research for promising drugs."
Academic researchers who also spoke Thursday were Mayfield neurosurgeons Mario Zuccarello, MD, the Frank H. Mayfield Professor and Chair of the UC Department of Neurosurgery, and Norberto Andaluz, MD, Associate Professor and Director of the Division of Neurotrauma; Timothy Pritts, MD, Associate Professor of Surgery in the Division of Trauma; and Kate Chard, PhD, Associate Professor and Director of the PTSD and Anxiety Disorders Division at the Cincinnati Veterans Affairs Medical Center.
Dr. Chard, who has coauthored a manual about post-traumatic care for the U.S. Military, said that traumatic brain injury has been the most common type of physical injury in the wars in Afghanistan and Iraq. "The scary part," she said, "is that people who are returning wounded – and especially the wounded who have TBI – are more likely to suffer post-traumatic stress. We talk about TBI and PTS as two different things, but they're hand-in-glove. A soldier who has suffered exposure to a blast has significantly higher levels of post-traumatic stress."
Meanwhile, as General Chiarelli pointed out, there are no new drugs in the pipeline for the treatment of post-traumatic stress. "The drug companies have pulled out of the cerebrospinal fluid area except for Alzheimer's disease and multiple sclerosis," he said.
Following the General's presentation, Dr. Zuccarello noted: "There is not anyone in our neuroscience group who doesn't share your vision. All of us would like to strive for that. We strongly believe in collaboration between basic scientists and clinicians and the value of research translated into clinical practice for much better outcomes for our patients."
–Cindy Starr