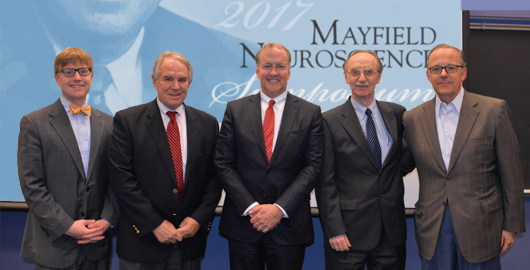 William T. Couldwell, MD, PhD, Chairman of the Department of Neurosurgery at the University of Utah, drew on the lessons of history and contemporary medicine as he spoke of finding balance in the science and culture of medicine at the 34th Mayfield Neuroscience Symposium at the University of Cincinnati College of Medicine. Speaking as the Mayfield Lecturer, Dr. Couldwell said that neurosurgeons are always trying to weigh how aggressive an operation should be for their patients who face deadly diseases, severe symptoms, traumatic injury, or infections. "Additionally," he continued, "we are discovering a new balance for our roles as physicians, educators, and mentors in this changing healthcare landscape."
Dr. Couldwell examined the issue of balance related to highly specialized surgeries performed for a complex area of the brain called the skull base. Using special instruments and pathways, the surgeon can treat benign or malignant tumors, or repair congenital defects in the bottom of the skull. In the evolution of skull base surgery, how aggressive should the treatment be?
Progress in skull base surgery eventually overcame some of its problems, specifically the need to remove large areas of facial muscle or bones by using minimally invasive or endoscopic approaches. But while endoscopy evolved, so did open surgery. Each strategy continues to evolve toward a balance: what is technically possible and what can give patients the best outcomes.
"As some operations become less invasive, others become more invasive. It's location, location, location," Dr. Couldwell said. For example, an 8-year-old girl may have a better outcome with a large-incision open surgery to remove the aggressive invasive tumor attacking her spinal cord than a small-incision minimally invasive surgery. The narrow path may not be enough, leaving behind residual tumor that causes more problems later.
Dr. Couldwell noted that with the unique features of each patient's case, neurosurgeons continue to learn more about the disease and the nuances of each operation. For a tumor in the skull base pressing on the optic nerve, the surgeon must weigh the balance of tumor removal with the preservation of nerves and vessels.
To minimize injury to facial structures, radiosurgery and minimally invasive approaches were developed. However, open surgeries that could achieve good aesthetic results were also refined. For example, a small incision could be made, hidden in the crease of the eyelid to remove a common skull base tumor, such as a meningioma. Or, in the case of an invasive tumor causing severe swelling of the eye, the surgery may need to be aggressive and open. After tumor removal, the patient's swelling can vanish, but the muscles and nerves near the orbit remain intact.
Finally, Dr. Couldwell showed that, in the future, robotics will assist in some of these complex surgeries. "At the University of Utah, we are testing a mobile unit for drilling bone that includes built-in safety parameters and improved steadiness," he said. "The drill is programmed using the robotic software, guided by the surgeon, and is more accurate."
Graduation, Honors and Alumnus Lecturer  
The Mayfield Symposium coincided with graduation ceremonies for two residents from the UC Department of Neurosurgery: Steven Gogela, MD, and Yair Gozal, MD, PhD.
Jennifer Kosty, MD, a fifth-year resident, was named the 2017 winner of the Ellen and Stewart B. Dunsker, MD, Award for Clinical Research. Graduating resident Steven Gogela, MD, was honored with the John M. Tew, Jr., MD, Award for Neuro-Oncology Research. And Christopher Carroll, MD, a fifth-year resident, received the Gabriela and Mario Zuccarello, MD, Award for Cerebrovascular Research.
Alumnus Lecturer Andrew Grande, MD, of the University of Minnesota, shared his views of leadership in neurosurgery. Dr. Grande affirmed the need for neurosurgeons to become more involved in decision making that affects healthcare policies. Models for reimbursement are changing as hospitals buy out physician practices and as large companies negotiate set fees for medical care for their employees directly with healthcare organizations.
"Neurosurgery is at the heart of everything, collaborating with all the disciplines of patient care within a hospital," Dr. Grande said. "Neurosurgeons have a deep understanding of work flow and processes. More neurosurgeons should be involved in shaping the policies and procedures that will ultimately affect patient care. Today, some patients don't get the care that their physicians prescribe, but instead must settle for what their insurance providers allow."
New Research
Incoming chief residents in the Department of Neurosurgery opened the morning's scientific presentations. Jennifer Kosty, MD, pointed out that some national results for aneurysm clipping and carotid endarterectomy may not be as good as those achieved by an experienced surgeon or high-volume center.
Christopher Carroll, MD, reviewed several studies conducted in the laboratory of Jed Hartings, PhD, that gave a better understanding of what happens in the brain tissues after subarachnoid hemorrhage. Monitoring the electrical changes after stroke or traumatic injury, for example, may help define future measures for prevention or treatment of other bleeding or inflammatory damage in brain tissues.
Shawn Vuong, MD, summarized his research, updating the how, why, and where of congenital hydrocephalus. Dr. Vuong's work was funded by a grant from the Mayfield Education and Research Foundation. Hydrocephalus, which is caused by too much cerebrospinal fluid in the brain, affects 1 in 500 infants and costs nearly $1 billion a year nationwide.
Enjoy the Journey
In his second talk, "William Osler's influence on early neurosurgery," Dr. Couldwell explored the contributions of this innovative pathologist, clinician, mentor, and leader in 19th century medicine. Dr. Couldwell shared photos depicting stories of Dr. Osler's patients, with the careful descriptions and drawings of several cases.
Dr. Couldwell said the spirit of leadership, mentoring, and teaching advocated by Dr. Osler is also contemporary. "In fact, it reinforces Dr. Grande's call for a participatory leadership, especially by young neurosurgeons," he said. "After residency, historically or today, physicians should exert their voice, helping to shape their culture of medicine, their work family, healthcare policy. Each one has the potential to bring forth a talent, a strength. Again, one must balance being a clinician, researcher, and educator while cultivating qualities of becoming a leader. Be sure to enjoy the journey."
— Mary Kemper