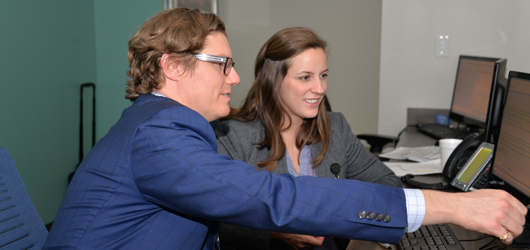 Spine patients who have an appointment at Mayfield Brain & Spine may or may not see a doctor on every visit. They may or may not see a Mayfield doctor every day they are in the hospital. And if they undergo surgery, their neurosurgeon may not be the only one holding instruments in the operating room.
Such is the changing nature of medicine that highly trained mid-level practice providers play an increasingly important role in the treatment and care of Mayfield's spine patients. They spend time with patients in the office, make follow-up phone calls, prepare patients for surgery, and even place pedicle screws or sutures during surgery.
"Patients who see a mid-level practice provider at Mayfield are in good hands," says Mark Farrington, CEO of Mayfield Brain & Spine. "These skilled professionals are important to our practice and are well equipped to see patients and support our doctors. Having a physician and mid-level provider working in tandem allows us to provide better overall care for our patients."
Mid-level practice providers can make the difference between a patient being seen in 10 days or waiting 6 weeks to see a neurosurgeon. They provide a second set of eyes and ears for the physician they work with, and in the operating room they provide an extra set of hands.
There are two types of mid-level practice providers at Mayfield. Both have advanced education and training, and both are licensed.
•  Nurse practitioners: Also known as NPs, these professionals have a bachelor's degree in nursing and have completed a two-year nurse practitioner degree. They see patients in office, manage problems within the scope of their training, write prescriptions for medication, and bill insurance companies for time spent with patients. Nurse practitioners also can practice medicine independently or open their own clinic.
•  Physician assistants: Also known as PAs, these professionals have a bachelor's degree and a two-year master's degree. They see patients in office, manage problems within the scope of their training, and bill insurance companies for time spent with patients. They can work in a clinical office setting, in the operating room as a "first assist," or in a combination of the two roles. Physician assistants cannot open their own practice or clinic.
Medical assistants, who are also important members of Mayfield's team, fill a different role than physician assistants. They provide support in the clinical setting, measuring patients' vital signs, administering medications and injections, recording information into the medical records, handling medical instruments and supplies, and collecting specimens for laboratory testing.
Mid-level practice professionals play a particularly important role following surgery. A patient who has undergone spine surgery will typically have three follow-up office visits: one at 2 to 4 weeks, one at 6 to 8 weeks, and one at 4 to 6 months. A nurse practitioner or physician assistant will see the patient during one of those three visits and will also be available by phone throughout the patient's recovery period to answer questions about wound healing and the resuming of normal activities.
"The mid-level practice professional has more time to spend with the patient than the surgeon would have," Mr. Farrington says. "From a utility perspective, we are providing greater service to the patient."
Michael Kachmann, MD, a Mayfield spine specialist, works closely with his physician assistant, Katherine Walters, PA-C, who holds a master's of medical science from St. Louis University.
"I see Kate as an extension of myself," Dr. Kachmann says. "She goes to the hospital with me and helps me take care of patients. We're also a team, so I listen to her. She's often my eyes and ears in the hospital, in the office clinic, or in the operating room."
Dr. Kachmann and Ms. Walters agree that patients won't always voice the same issue or complaint to both of them. One patient might feel more comfortable talking to Ms. Walters, while another might be more forthcoming with Dr. Kachmann. Working collaboratively, they arrive at a plan that optimizes the patient's treatment and follow-up care.
Ms. Walters says that sometimes patients might feel shortchanged by seeing a PA or NP instead of the surgeon. "But in reality, having two collaborating clinicians is more beneficial for the patient," she says. "You are getting two educated opinions about your case."
Away from Mayfield, patients can expect to see more nurse practitioners and physician assistants at their medical appointments as the general population ages and demand for healthcare increases. Dr. Kachmann knows this from personal experience. His parents and wife all see a nurse practitioner during their primary care appointments.
— Cindy Starr