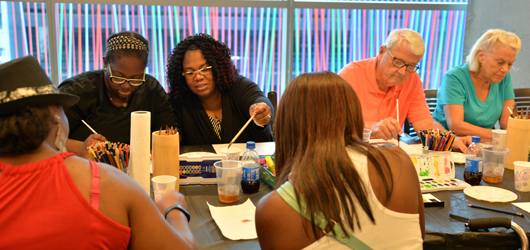 They painted a horse and a hummingbird, stars and the sun. They painted circles, squares and survivor ribbons. In a successful first-time event, 18 members of the Tri-State Brain Aneurysm Support Group painted with watercolors Wednesday evening at the Contemporary Arts Center (CAC) downtown. Overseeing the group was Alexandra Dellis-Harcha, art director for Curiosity Advertising and a volunteer docent at the CAC. Instruction, supplies and refreshments were provided at no charge.
The event was organized by Bob White, president of the support group, and Roberta Holden, medical secretary to Mario Zuccarello, MD, a cerebrovascular specialist for Mayfield Brain & Spine, and the support group's vice president.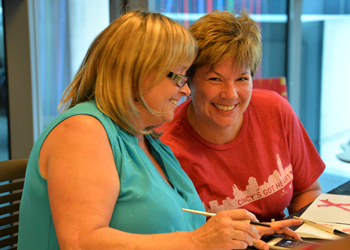 "I'm not very good at art, but I love my group," said Marla McCarthy, a survivor who never stopped smiling, whether she was painting or simply chatting with a friend.
"This is a lot of fun," observed Mr. White, who is also a survivor. "Most of our programs involve a speaker and open discussions. They're very good, but once in a while it's good to have a change of pace. Looking around the table, I see creativity here. There's a lot of self-expression. It's a whole different way of using the brain."
The support group, founded in 2002, provides educational resources, encouragement and understanding to survivors and caregivers during the recovery period following a ruptured aneurysm, also known as a subarachnoid hemorrhage. For some patients, recovery can take years, while deficits from a rupture can last a lifetime.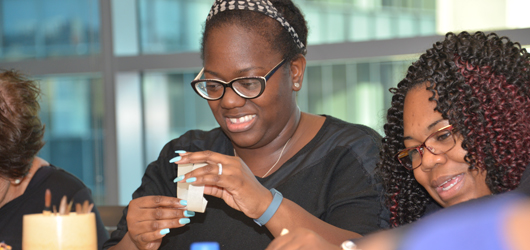 The support group provides regularly scheduled meetings on the first Wednesday of every month, excluding January and July, as well as a winter social and summer picnic. An annual symposium for survivors and caregivers features physicians and professionals, who address a variety of topics pertinent to the ongoing journey of the aneurysm survivor.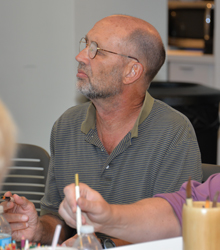 The support group will sponsor its third annual Walk for Brain Aneurysm Awareness in the Greater Cincinnati community of St. Bernard on Saturday, Sept. 24.
Registration for the event will begin at 9:30 a.m. at Vine Street Park in St. Bernard. The walk will begin at 10:30 a.m. and proceed through St. Bernard along routes with intervals designed for the capabilities of participants. Entertainment, refreshments and vendor booths will be available at the conclusion of the walk.
"This is a way to raise a little money for our group and, more importantly, to raise awareness about an issue that really needs attention," said Mr. White.
For more information, please visit http://www.tsbaconnex.org/