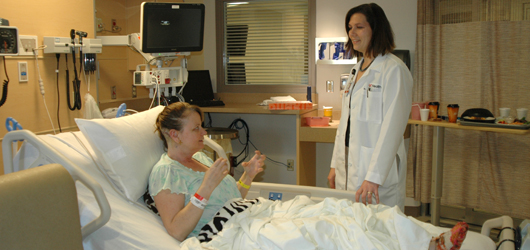 Two thumbs up is the response Mayfield Clinic patients are giving to the new acuity-adjustable unit that opened May 1 at UC Health's University Hospital. The family-friendly unit is serving patients who have undergone surgery for brain tumors or elective surgery for conditions that include brain aneurysms, epilepsy and Chiari malformation.
Less than two weeks after the fourth-floor unit opened, 25 patients had recovered from their surgery there in a bold new way. Rather than going from room to room as their condition improved, and from one nursing team to another, they stayed put while a single clinical team adjusted the room and the intensity of nursing services to the acuteness, or severity, of their condition."Not going from one room to another was huge," said Debi Hall, who, two days after having a tennis ball-sized meningioma removed from her brain, was enjoying a healthy breakfast in bed with her daughter at her side. "I got here and I stayed here."
Ms. Hall took advantage of a signature feature of the rooms: a pull-out bed that enables a loved one to stay around the clock. A close friend stayed with her one evening, her daughter the next. "Having someone spend the night, I really appreciated that," Ms. Hall said. "Just knowing that someone was here was comforting."
She also enjoyed a visit from her 2-year-old grandson. "To have him toddling around, I think it helped everybody," she said. "He lifted my spirits.
"Enhanced family participation has a direct impact on patient satisfaction and has been shown to reduce stress and expedite recovery," said Ronald Warnick, MD, the Mayfield Clinic Chairman and neurosurgeon who proposed and championed the unit as Medical Director of the Brain Tumor Center at the University of Cincinnati Neuroscience Institute. "Our new unit elevates care to an entirely new level."
Feedback from patients and families has put a big smile on the face of Heidi Salyer, RN, CNRN, Director of Nursing for Neuroscience. "Patients and families really appreciate it," she said. "They love having their loved ones at the bedside. They love that they don't have to transition to a different room and get to know a different staff member or team. They like being able to get their loved one a blanket or water, when before they felt so helpless because they had no ability to be helpful and were at the mercy of the nurse's schedule. Now, we're asking the families to participate in a newer model of patient-centered care."
The acuity-adjustable concept originated in cardiovascular care, and this is the first time it has been implemented for neurosurgery in the United States. "In the past, a patient might be in three or four different rooms within the hospital," Dr. Warnick said.
Acuity-adjustable units previously established for cardiovascular patients have reduced medical errors, falls and patient anxiety, Dr. Warnick said. "Hospitals with cardiovascular acuity-adjustable units have seen a drop of up to 90 percent in the number of transfers to new beds, a 70 percent reduction in medication errors and a 75 percent decrease in patient falls. We expect to see similarly significant benefits for our neurosurgical patients."
Most of the patients expected to fill the rooms will have undergone surgical treatment for brain tumors. Two of the unit's 10 rooms are hard-wired to provide continuous seizure monitoring for patients who have undergone epilepsy surgery.
In a departure to the gleaming but noisy feel of traditional hospital wings, the soft-hued acuity-adjustable unit was designed with natural lighting and sound-deadening features to offer a relaxing and serene environment.
Critically ill neurological patients, including those who have suffered a bleeding stroke or a traumatic brain injury, will continue to receive care in University Hospital's state-of-the-art Neuroscience Intensive Care Unit (NSICU). But families of patients in that unit have also experienced a welcome change. On May 1, the day the acuity-adjustable unit opened, visiting hours in the NSICU were extended, and a new guideline allowed a family member to stay overnight in the NSICU as well.
–Cindy Starr