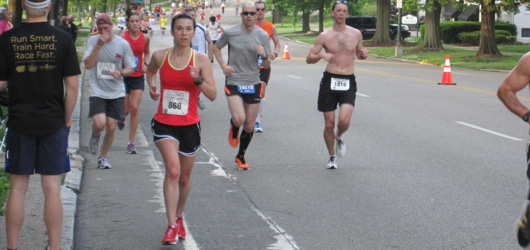 The physicians and staff of the Mayfield Clinic congratulate Alison Delgado, MD, on her fourth-place finish in the 2012 Flying Pig Marathon. Dr. Delgado capped her recovery from a devastating cycling accident and subarachnoid hemorrhage in October 2010 with a superb performance in Cincinnati's celebrated marathon last Sunday. Her time of 3:01:34 was two minutes better than her winning time in the 2005 Flying Pig.
In the months following her accident, Dr. Delgado received life-saving care from members of the Mayfield Clinic team, including neurosurgeons Mario Zuccarello, MD, and Andrew Ringer, MD, and neurointensivist Lori Shutter, MD. Years of neurosurgical experience, state-of-the-art neurointensive care at UC Health's University Hospital, and the passionate support of her husband, Tim Delgado, MD, and her family, all combined to help Alison make her way back to health.
Among those pulling for Dr. Delgado on Sunday was Assistant Professor Jed Hartings, PhD, Mayfield's own marathon man, who watched the Flying Pig with friends and ran the last four miles with his training partners. "We made signs and cheered for the runners in Eden Park at mile 8, and then again at mile 22 on Riverside Drive," he said. "We saw Alison both times and were pulling for her to win. Her fourth-place finish was tremendous."
We applaud Dr. Delgado's perseverance and determination, and we wish her continued success with her running and with her work as a pediatric resident at Cincinnati Children's Hospital Medical Center.
See all of Mayfield's patient "hope stories" >>