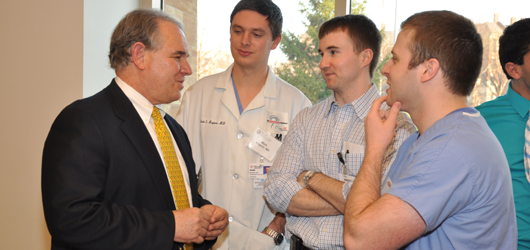 Jeffrey T. Keller, PhD, Research Professor of Neurosurgery & Anatomy and Cell Biology at the University of Cincinnati and the Mayfield Clinic, enjoyed a reception in his honor Tuesday on the eve of the inaugural Keller Lecture in Surgical Neuroanatomy & Research. In attendance were family, friends, colleagues and Albert L. Rhoton, Jr., MD, Professor of Neurosurgery at the University of Florida and the first Keller Lecturer.
The reception was held at the Kingsgate Marriott, near the University of Cincinnati Academic Health Center campus.
The Keller Lecture, established in 2011, is funded by the Mayfield Education and Research Foundation. Dr. Keller has been training surgeons, residents and medical students in applied neuroanatomy since 1975. His investigations and laboratory dissections, infused with deep appreciation for the historical traditions of neuroanatomy, have led to the refinement of many operative techniques.