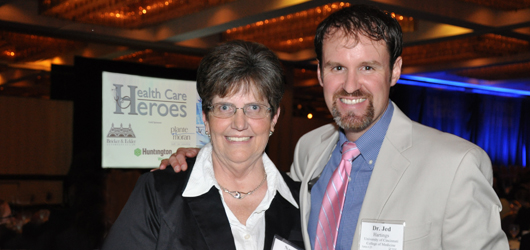 Nancy McMahon, RN, and Jed Hartings, PhD, were honored Thursday evening at the Cincinnati Business Courier's 15th annual Health Care Heroes banquet at the Hyatt Regency Cincinnati. Ms. McMahon was a winner in the provider category, while Dr. Hartings was one of six finalists in the innovator category.
For 37 years Ms. McMahon has been the nurse we all hope will take care of us when we are ill. Since 1989 she has served as the dedicated Neuro Nurse Specialist for Dr. John M. Tew's neurosurgical practice at the Mayfield Clinic and the UC Neuroscience Institute. Ms. McMahon manages the flow of patients who come to see Dr. Tew, contacts patients who need information or help in making appointments, and assists in the operating room. She helps them rearrange their appointments, she answers their questions, and she provides a safe place in a field that can be fraught with uncertainty and fear. She has neuroscience nursing and educational expertise in several neurosurgical areas, including trigeminal neuralgia, Chiari malformation, pituitary tumors and acoustic neuroma tumors.Dr. Hartings researches the pathology of brain trauma and stroke, mentors young scientists and clinicians in research, and pioneers new developments in the area of brain monitoring in the Neuroscience Intensive Care Unit at University Hospital. He has published 40 peer-reviewed journal articles and has one patent and two invention disclosures to his credit. He is at the forefront of research on spreading depolarizations, a pathologic brain activity and complication, and is a founding member of the international organization COSBID (Co-operative Study on Brain Injury Depolarizations). Spreading depolarizations are electrical disturbances that spread through an injured brain like tsunamis and – Dr. Hartings has shown – contribute to poor patient recovery.
In accepting her winner's award, Ms. McMahon thanked many people: "The Mayfield staff and doctors (past and present) for your kindness and support … the nurses on the Good Samaritan Hospital and University Hospital neurosurgical floors … my dear friend and mentor Dr. John Tew … my family and friends … and the patients I have encountered through the years who have taught me faith, hope, strength, and kindness during difficult times in their lives."
Ms. McMahon and Dr. Hartings continue a proud Mayfield tradition in the Health Care Heroes event. Our previous honorees are Michael Gilligan, FACHE (manager, 2002), William Tobler, MD (provider, 2003), Hwa-Shain Yeh, MD (innovator winner with Michael Privitera, MD, 2004), Lori Shutter, MD (provider, 2005), Ronald Warnick, MD (innovator, 2005, and provider, 2007), Mario Zuccarello, MD (innovator, 2006), Dr. Tew (innovator winner, 1999, and Lifetime Hero, 2007) and Charles Kuntz, MD (innovator, 2008). The Mayfield Clinic was honored in the innovator category in 2009 for its development of Priority Consult and the UC Neuroscience Institute was honored for innovation in 1999.
The Mayfield Clinic is proud of Ms. McMahon and Dr. Hartings, and we thank them for the fine work they do and for this well-deserved recognition!
— Cindy Starr