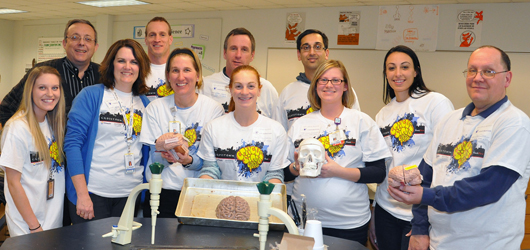 They cut into tofu-like brains made from jello molds. They traced their fingers along the sharp ridges of bone inside the model of a skull. They wore concussion goggles that simulated the potentially debilitating effects of brain injuries caused by a bump, blow, or jolt to the head.  And they listened to the stories of other young people who had suffered such a blow and had experienced lingering effects.
Students at St. Ursula Academy did all of these things Friday afternoon as their school became the first to host the Crosstown Concussion Crew. The Crew features a team of University of Cincinnati and Xavier University students who have joined forces with concussion experts of the ThinkFirst Injury Prevention Program at TriHealth Sports Medicine and the Mayfield Clinic.
The program is headed by Injury Prevention Coordinators Stephanie Lambers, MEd, and Krista Jones, BS, of TriHealth ThinkFirst; Norberto Andaluz, MD, a Mayfield Clinic neurosurgeon and Director of Neurotrauma at the University of Cincinnati Neuroscience Institute; Sanjiv Lakhia, DO, a physiatrist with the TriHealth Heads Count Concussion Program and the Mayfield Clinic; and Juan Peschiera, MD, Medical Director of Bethesda North Trauma Services.
The Crew uses interactive, hands-on teaching methods to explain brain and skull anatomy, to demonstrate how a concussion can impact cognitive functioning, and to teach students how to identify a concussion when it occurs.  A concussion is a mild traumatic brain injury caused by a blow to the head or a whiplash-like force. Common in falls, sports, and car crashes, concussions can temporarily affect the brain, causing confusion and problems with memory, speech, vision, or balance.
The students learned that the brain is the consistency of firm tofu or custard and that an impact or whiplash-like force can cause it to slam against the inside of the hard skull. One St. Ursula student said that she didn't realize that the brain "is rolling around in fluid" inside the skull.
Students, some of whom had already suffered concussions playing sports like soccer or volleyball, also came away with greater appreciation for the risks.
"There is no evidence that a helmet can prevent a concussion," Dr. Lakhia said. "It's like trying to put an egg in the helmet and telling the yolk not to move."
In one of the more entertaining exercises, students put on concussion goggles and tried to walk a straight line or catch a soft ball shaped like a brain. Their coordination was clearly impaired. "It felt like the line was moving," one student said. "I didn't feel in control."
The Crosstown Concussion Crew focuses not only on recognizing concussion symptoms, but also on taking the right amount of time to recover after a concussion.  "It is important to rest, rest, rest," said Ms. Jones.
Rest may involve more than simply staying in bed and home from school, said Joe Clark, PhD, Professor of Neurology at the UC College of Medicine. "Rest can mean brain rest, which can mean no texting, video games, or schoolwork and no music with a beat that is faster than your heartbeat.  The brain heals faster when it is resting."
The Crosstown Concussion Crew's debut at St. Ursula Academy was the start of a multi-year educational effort by TriHealth's Think First program and Mayfield. Several more sessions are being scheduled at schools across the TriState. For more information, or to schedule a program, please contact the ThinkFirst Injury Prevention Program at (513) 865-1742.
— Cindy Starr