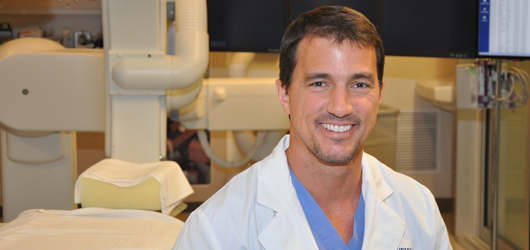 Andrew Ringer, MD, a neurosurgeon with the Mayfield Clinic and Director of Endovascular Neurosurgery at the University of Cincinnati College of Medicine, is featured in Cincinnati Magazine's Top Doctors issue this month for his founding role in the Endovascular Neurosurgery Research Group. The acronym, ENRG, is pronounced "energy."
ENRG, whose 20-plus members hail from leading academic health centers, studies the effectiveness of medical devices that are implanted in patients to treat or reduce the risk of stroke. By pooling the outcomes of patients treated at multiple centers, the researchers can arrive at a highly accurate assessment of a device's benefits or drawbacks.
The research is important, Dr. Ringer tells reporter Liz Bronson Rosenau of Cincinnati Magazine, because initial studies about a device are typically sponsored by industry and may have an inadvertent bias toward a company's product. The researchers seek to replicate the industry's results among a broader population of patients. The ENRG team recently demonstrated the effectiveness of the flow-diverting Pipeline® embolization device in the treatment of the most challenging brain aneurysms.
The January Top Doctors issue is available on newsstands and can be viewed online by signing up for "Cincinnati Magazine Insider" access at http://www.cincinnatimagazine.com.
The seeds of ENRG were sown when Dr. Ringer was a fellow at the State University of New York at Buffalo some 15 years ago.
"While I was there, I recognized the potential benefit of being allowed to systematically record and analyze the results of treatments for our patients," Dr. Ringer said in a recent interview. "This is different from performing a randomized trial, where a study coordinator decides how they are treated and which treatment is the gold standard. This is more of a quality assurance — a let's-see-how-we're-doing kind of analysis. I also recognized that this kind of analysis has a lot more meaning if you have large numbers of patients. No one physician can accumulate that kind of experience all by himself."
At a national meeting a few years later, Dr. Ringer pulled a small group of endovascular neurosurgeons together and inspired them to answer a simple but pertinent question: "What is the risk associated with a routine test (an angiogram) that determines whether a brain aneurysm treated with endovascular coiling has started to recur?"
Surgeons from eight institutions agreed to collaborate, and they went on to pool their outcomes data from more than 3,000 angiograms and more than 2,200 patients. The result was striking: The risk of a major stroke to patients who were followed with angiography after coiling was only 0.1 percent. In Dr. Ringer's words, it was "a very minimal risk."
The group went on to ask more complicated questions, to acquire more members, and to formalize its process. Today ENRG regularly presents its research results at national meetings and has its own regular meetings throughout the year. The ultimate beneficiaries are the patients at risk of aneurysm rupture or stroke whose physicians know what works, know the risks of treatment, and have the outcomes data to back them up.
— Cindy Starr